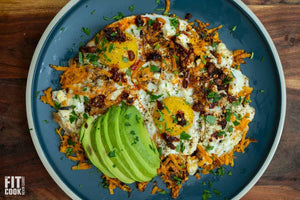 Feta Fried Eggs over Sweet Potato Hash Brown Recipe
Ingredients
1 Serving
140g raw sweet potato, peeled and grated

You can use any variety potato
russet potato

spray oil
1 tablespoon arrowroot powder
1 teaspoon cracked pepper
2 tablespoons feta, crumble
2 whole raw eggs
Garnish
1/4 ripe avocado, slices
1 tablespoon garlic chili crisps
2 tablespoons parsley, finely chopped
Steps
Step 1
Peel then grate the sweet potato into a mixing bowl.  Spray with olive oil and dust with the arrowroot.  Use your hands to toss the sweet potato in the arrowroot – it should be somewhat sticky.
Step 2
Set a nonstick skillet on medium-high heat.  Once hot, lightly spray with olive oil then add the sweet potato.
Note: the flatter and more spread out the sweet potato is in the pan, the crispier it gets.
Step 3
Cook the sweet potato for 5 – 6 minutes, flipping throughout to prevent burning.
Step 4
Once the edges are seared and the sweet potato has slightly changed color, add the feta crumble and crack 2 eggs on top.
Step 5
Cook until the egg white is cooked through, about 3 minutes, then remove from the skillet.
Step 6
Garnish and enjoy immediately while still warm.  BANGIN!!


Details
Prep-

5min - 

Cook-

15min - 

Total-

20min - 

# of servings1 
Serving Size:311g
Nutrition per serving
Calories340cal
Protein17g
Fats14g
Carbs37g
Sodium390mg
Fiber4g
Sugar7g
Author:

Kevin Curry
---