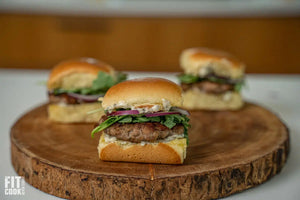 Turkey Sliders
Turkey Sliders Recipe
Ingredients
8-Servings - Serving-Size:102g
8 mini brioche hamburger buns

use your preferred slider bun

1lb 93% lean ground turkey
2 teaspoons garlic powder
2 teaspoons onion powder
2 teaspoons Italian seasoning
2 teaspoons cracked pepper
Garlicky Mayonnaise (optional)
3 garlic cloves, minced
6 tablespoons reduced fat olive oil mayonnaise
2 teaspoons dried oregano
cracked pepper to taste
Garnish
fresh baby arugula
red onion, thin slices
Steps
Step 1
Mix together the ingredients for the sauce, season to taste, and then set aside.
Step 2
Set a carbon steel or cast iron skillet on medium-high heat.
Step 3
Slice the buns in half. Lightly spray with olive oil and if desired, lightly sprinkle with garlic powder.


Once the skillet is hot, add the buns face down in the skillet.  Toast for 3 – 5 minutes or until the edges have lightly browned.

Alternatively, set oven to 350F/177C.  Slice the buns open and spray with oil.  Then place them in a baking tray face up.  Place in the oven and toast for 3 – 5 minutes or until browned/toasted to your liking.
Step 4
In a bowl, gently mix together ingredients for the burger using your hands – overmixing can make for rubbery, tough burger. Use an ice cream scoop or spoon to evenly make eight 2oz sliders.
Step 5
Wipe the pan clean if needed, spray with oil then add the patties. As you add the patties, press down on each one to flatten.  This is the ONLY time you press down on them while the burger meat is still cold and the "juices" have not warmed to flow yet.

Since this is turkey, you want to cook it all the way through, not medium rare or rare like beef.
Cook sliders on each side for 3 – 5 minutes or until sear marks appear.

Step 6
Bring it all together and build the sliders! Add the sauce or your choice of condiment to the sliders.

Step 7
Then add the patties and top with arugula and red onion.

Step 8
Enjoy with a side salad or baked chips


Details
Serving Size:102g
Nutrition per serving
Calories250cal
Protein15g
Fats12g
Carbs19g
Sodium430mg
Fiber1g
Sugar3g
Author:
Kevin Curry
---