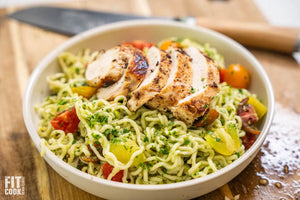 Avocado Ramen Noodles
Avocado Ramen Noodles Recipe
Ingredients
2 Servings
10oz chicken breast
2 teaspoons onion powder
2 teaspoons garlic powder
pinch of sea salt & pepper
4oz ramen noodles

I used millet & brown rice ramen

1 1/2 cups cherry tomato, quartered
Sauce
1/4 cup ripe avocado
1 teaspoon garlic
1/3 finely diced parsley
juice from 1/2 lemon
1/3 cup water
Steps
Step 1
Bring a pot of water to a boil and add noodles.  Once cooked to your satisfaction, drain and set aside. Should take no more than 4 minutes.
Step 2
Lightly spray chicken with avocado or olive, then rub the seasoning all over the chicken breasts.
Step 3
Set a carbon steel or nonstick pan on medium-high heat and once hot, spray with oil then add the chicken breasts.  Cook the chicken for 6 – 8 minutes on each side, or until the juices run clear.  Remove from the heat and set aside.


Step 4
In a bowl, mix together the ingredients for the sauce.  Make sure the consistency is not too thick or else the noodles will clump.
Step 5
Add the noodles to the sauce and gently toss. Add a tablespoon of water if the noodles are clumping.

Then fold in the tomatoes
Step 6
Enjoy the avocado ramen with the chicken breast.

# of servings2
Serving Size-398g
Nutrition per serving
Calories-540cal
Protein-44g
Fats-10g
Carbs-67g 
Sodium-380mg
Fiber-10g
Sugar-4g
---