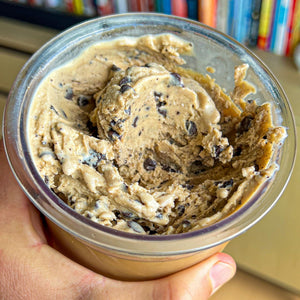 339 Cal Coffee OREO Chip Protein Ice Cream
"Make Food Fun Again" with these 339 Cal Coffee OREO Chip Protein Ice Cream"
Servings: 1 Pint
Products Used:
Prep Time:

15 mins

Cook Time:

0 mins

Total Time:

15 mins


Ingredients
240g Fairlife Fat Free Milk
240g Cold Brew Coffee (I did Decaf so I can have any time of the day)
30g Vanilla Whey/Casein Blend Protein Powder 
8g Sugar Free/Fat Free White Chocolate Pudding Mix
5g Zero Cal Sweetener of your choice
Pinch of Sea Salt
Mix-Ins:
2 Oreo Thins
10g Mini Chocolate Chips
Instructions
Add all your ingredients into your pint. Use small hand blender and mix till smooth.
Add pint to freezer till frozen. I just do mine the day before so they can freeze overnight. And also pro tip, get extra pints and then make 6 of these at one time so you have them for the whole week.
 Then once frozen, add to your creami holster and do the "Lite Ice Cream" function. All you need to do is that function one time and you are good to go! Now you have an amazing cold brew coffee protein ice cream but if you want that oreo chip vibe, it's mix-ins time!
Now make a couple holes in the ice cream to make sure the mix-ins get evenly dispersed throughout the pint. Add your OREO thins and mini chocolate chips. Add back to the creami and do the mix-ins function. Then enjoy!


Nutrition Facts
Serving Size: 1
Serving Per Recipe: 1 Pint
Amount Per Serving
Calories 339
% Daily Value*
Fat 7g
10%
Carbs 33g
11%
Protein 36g
* Percent Daily Values are based on a 2,000 calorie diet. Your daily values may be higher or lower depending on your calorie needs:


Author-
Protein cookie butter
Flex Brands 
---